Simply the BEST C7 Insulation Kit available for your Vette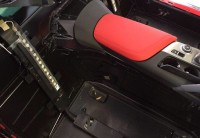 MAYBE THIS IS WHY!?
Wondering why your Corvette is so loud and warm inside on long trips???
The Corvette is an AMAZING sports car but it wasn't built to be
a luxury sedan.....
So we decided to improve it for those who love to drive with more
civilized comfort and quiet noise levels.
Why not have a comfortable conversation and hear the radio with the windows up and
still be able to roll them down when you want it loud!

THIS KIT REALLY MAKES A DIFFERENCE! YOU WON'T BE DISAPPOINTED!!
With over 6000+ SATISFIED CUSTOMERS on our Insulation kits for C4, C5, C6, & C7 Corvettes ALL OVER THE PLANET,
have NO fear, YOU WILL BE HAPPY WITH IT!
Read some of our reviews on the CorvetteForum.com,
there are over 1000 members 
with our products over there singing praises in threads for the
last 15 years.
If you have been on any road trips or done a decent amount of driving in your C7 yet, you've definitely noticed how loud and hot it can get.
With our kit you'll have a much quieter and comfortable car to drive.
You and your passenger or the person you're having a hands-free phone call with can actually hear each other without shouting.
BASE KIT ($235 shipped)
For the Vette owner who wants a more civilized interior while driving
The base inulation material is a semi-dense neoprene foam 
covered on BOTH sides with heat-rejecting foil (REJECTS 97% of radiant heat) 
We have been selling this kit for over 15 years with almost zero
unsatisfied customers out of over 6000 sold!
We only recently (2013) started the upgraded kits which have quickly 
overtaken sales to 90%+ of orders except the weight-conscious racers.
It is 3/16" thick so it will not interfere with fit for reassembly.
EXTREME KIT ($350 shipped)
A great compromise of sound reduction without too much weight
Our "Extreme Kit" which includes the full base kit 
as well as a base foundation of 20sq ft of Digital Design Insulation. 
Similar to Dynamat Extreme but BETTER!!!
Dynamat Extreme is 1.4ml thick. Our material is 3ml THICK!!! 
The new DOUBLE EXTREME KIT! ($450 shipped)
When only the best will do......
Our MOST EFFECTIVE NOISE REDUCING KIT EVER!
This kit is the #1 SELLING SOUND & HEAT
INSULATION KIT for the C7 in the WORLD! 
For you guys who want the most improvement and absolute best noise reduction available
and aren't afraid of a couple pounds of weight for your C7 Corvette!
It includes 40sq ft of sound deadening mat that 
KILLS noise inside the car like nothing else on the market!
I have been in hundreds and hundreds of Corvettes-
This kit is the closest you will come to
having luxury touring car sound levels in a Corvette, hands down!

Full installation instructions are included with plenty of pictures and explanations
 on how to disassemble your interior, where to put the pieces, and how to put it all back together.
Average install time for one person should take 5-7 hours. Add about 1-2hrs for the Extreme kits
We recommend having a full day free or take your time over the weekend
 With our instructions and two people, a competent shop should be able to do this in 4-6 hours no problem.
BASE KIT $215(+$20 Shipping)
EXTREME KIT $315 (+$35 shipping)
DOUBLE EXTREME KIT $450 shipping included
BLACK FRIDAY SALE 
Base kit $25 off ($210 shipped)
EXTREME Kit $35 off ($315 shipped)
DOUBLE EXTREME KIT $45 OFF! ($405 shipped)
Here is a video of the first layer of the Double Extreme Kit:
https://www.instagram.com/p/BgCRJxMBxr7/?taken-by=cra_z_cowboy

Choose between Coupe/Z06 or Convertible version