C5 Cargo Partitions $169.99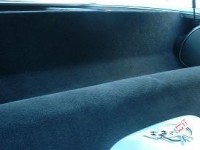 Tired of having no where to put your everyday items like CD's, mail, water bottles, umbrellas, etc, etc...????
Then we have the product you've been looking for!
This one piece, light-weight (under 6 lbs) cargo divider has a 'from the factory' appearance.It goes in and out in literally seconds and does not require any mounting hardware due to ourunique design, it perfectly fits in place.
Comes covered in Black, Light Oak, or Pewter Carpet.
No longer will you have to get out and open the trunk to get items you put behind the seat, that went flying into the back when you hit the gas a little too hard ;) You will also eliminate the dreaded 'flapping cargo shade' in your rear view when driving with the windows down or top off!
The piece does not interfere with the targa top being able to be put in the car either.
This effectively seals off the trunk cargo area from the eyes of would-be thiefs who might have seen something in the back of your car while parked with the windows down or top off.
$169.99 plus $25 shipping in the continental US
CHOOSE YOUR MODEL AND COLOR BELOW!