The ULTIMATE UPGRADE for your Gen 1 R8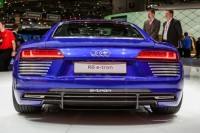 The $1.1 million R8 E-Tron
In case you haven't seen the latest generation Audi R8 taillights, THEY LOOK AMAZING! There are a lot of guys spending big money to update their early model R8 to the later model Gen 1 taillights. While that makes a big improvement, to most people on the road you are still driving the 'old' R8. With this BOLT-ON, 100% reversible, plug-and-play conversion you will have the look of the latest $200k-240k version of the R8.
Not only does this make your Gen 1 R8 look completely BAD-ASS and more expensive, the additional downforce
created at highway and higher speeds functionally makes the car feel more stable.
The center replacement bumper incorporates a wing that was inspired to be a more aggressive style wing found on the only Electric Audi R8 ever made (which sold for $1.1 million dollars)
 As mentioned above, this kit does not require you to do anything to your R8 that would prevent you from putting it back to original form. The only thing that requires paint and body work is the replacement bumper/wing! You can leave your original tailights and center bumper in storage to retain value or if you chose to return the car to original for selling (though the car will likely bring more money with the new rear lights and wing, it doesn't help to have all the original parts).
The replacement bumper/wing requires using the plastic bracket or ordering a new one from Audi that holds the rear camera and license plate lights. It can be easily swapped from the original to the new part (and back if you wanted).
Will include harnesses for both tail lights that will plug in from the car to the Gen 2 taillights (with no error codes generated!), installation guide, hardware and adhesive for wing and lights. We are working on the sweeping taillight modules right now and should have them available as an option very soon.
We recommend a competent paint and body shop to do the install, final fit/finish, prep and paint.
The conversion kit is $2500* and does not include taillights
We currently have a pair of flawless US and Euro Spec taillights available:
The conversion kit with US spec taillights is $4000.
The conversion kit with rare Euro Spec taillights (yellow turn) is $5000*.
Sweeping modules for turn signals estimated to be $450 a pair
(Not required but WORTH IT)
*Plus freight or free local pickup in Central FL