C6 Tail Light Dots kit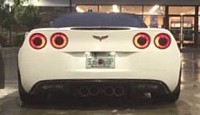 ONLY $28 shipped gives your rear end this cool Halo look
Looking for an inexpensive way to change the appearance of your C6 Corvette's rear end? Don't want to spend $400-$600 on LED halo lights? Then look at what we have for you that will set your car apart from the others on your next show or cruise.
The Exotic Vette C6 taillight dots kit is a quick and easy, as well as inexpensive, way to change the way your taillights look both day and night. The simply stick on over the center of your factory tail light.
They will block out the center reflector on your taillight, so if you're concerned with legality you may want to add reflectors somewhere else on the rear of the car, such as the license plate bolts. For legal reasons, I will state that these are intended for show use only and not intended for use on a public roadway.
The reality is I've had these on numerous cars for a few years now and have never had a problem.
These are easily removed if you choose to also. They still allow all of the factory light to shine around the dot, while blocking the reflector in the light in the center. This gives the taillights a very unique and custom ring-look look at night.
It also gives the taillights a blacked out appearance during the day while not illuminated. However once the brake light is pressed, they are just as bright as a factory light
Our kit is computer cut for exact size on each piece. We also use only the highest grade Avery vinyl which allows for ease of install as well as not having to worry about fading or peeling.
And for $28 shipped, where else can you get something this cool that you'll see everything you look at your C6 Corvette!?!
Order your set of tail light DOTS now for
This is one of the best BANG-FOR-YOUR-BUCK appearance mods for a C6 out there!
Simple install takes less than a half hour and looks great