C67 Corvette Conversion Kit
The C67 Corvette.... 
THE BEST LOOKING AND BEST PRICED
 kit to give your C6 the modern updated look of the C7
The look of a $100k+ new Z06 on your 2005-2013 C6 Corvette
 for a price you can put on a credit card!
We offer free local pickup or freight shipping on larger kits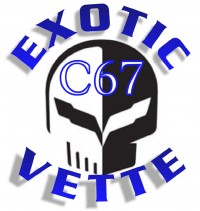 So you own a C6 and love it.....
but you also LOVE those modern C7 lights?
Tons of time and money in your C6?
Just want something different than everyone else at the car show?
Want the look of a new Vette without the new car payment?


The C67 conversion available in 3 levels explained below:
Convert ANY C6 into a C67!
Widebody / Narrow Body / Convertible or Coupe
ALL KITS INCLUDE PLUG AND PLAY HARNESSES AND HARDWARE TO INSTALL THE KIT WITHOUT CUTTING ANY WIRES
***PRICES DO NOT INCLUDE C7 HEADLIGHTS*** 
*Contact us for availability and pricing on headlights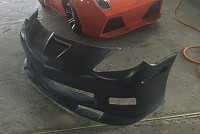 Replacement Widebody C67 Front Bumper Kit
EASIEST INSTALL KIT:
 WIDEBODY REPLACEMENT BUMPER & FENDERS
$3000 + shipping or pick it up
If you have a Zr1 or Z06 or GS (factory widebody cars) this is the kit for you!
OUR MOST 'BOLT-ON' KIT
Replacement pair of C67 fiberglass fenders (see above right pic)
and a fiberglass bumper which has a Zr1 style
lower lip along the bottom edge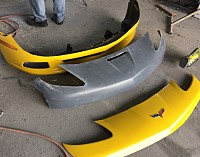 UPPER BUMPER half for narrow AND widebody cars
MINOR BODYWORK MOLDING IN NEW BUMPER TOP HALF:
 WIDEBODY BUMPER CAP AND FENDERS 
$2500
Includes the replacement widebody fenders 
and the upper half of the front bumper
(Minor bodywork of panel line to bumper)
The benefit of this is that if you have a carbon fiber or 
a rubber/urethane front factory splitter you can keep it
You also retain all factory mounts for foglights/grills/under panels
 of the OEM bumper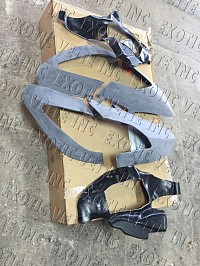 EXPERIENCED BODYWORK REQUIRED:
Narrow Body / Base Kit 
$1500
This kit includes 2 bumper and 2 fender panels which will fit on ANY C6 
(Widebody or Narrow) $1500 (see —->)






Or $2000 with Z06 bumper vent upper bumper
The upgraded kit for $2000 replaces the two bumper panels
with the upper bumper cap that adds the Z06/Zr1/GS vent
on ANY C6 - even narrow body cars!
The bumper cap makes the install much
QUICKER AND EASIER while
adding the bumper vent which of the Z06 and ZR1
The $2000 option is the most popular
and easiest kit for the narrow body cars