C5 & C6 Cell Phone mount and holder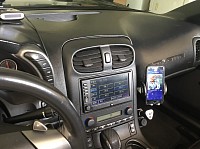 If you're anything like every other person in the 21st Century you likely carry a smartphone with you everywhere you go. They are just like having any information you need at your fingertips. AND, if you're like most people you get in your car and throw it in the cup holder or leave it in your pocket or you might have purchased a phone holder. Problem with most phone holders is that they usually either obstruct an AC vent or they attach to your windshield (illegal in most states). To solve this problem and allow you to have your phone in view and in reach, while not being in the way, we are offering this new design that holds your phone and installs in no time.
Our latest product to make your daily driving more enjoyable and easy to install cell phone mount and holder places your phone just next to your console on the passenger side without being in the way of the glove box or passenger or any console features. 
This mount is universal and will adjust with the press of a button to fit ANY cell phone / smart phone
It allows for rotation so you can view videos or navigation full-screen. It also pivots to the passenger can view it while you're driving on road trips
This holder works perfectly with out Bluetooth Kit too (as seen in the pic). If you buy the Bluetooth Kit with the phone holder you'll SAVE $$$ together